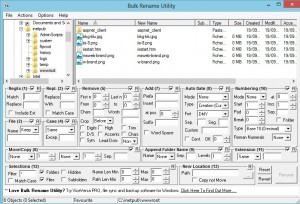 Bulk Rename Utility is an easy to use file rename program (a.k.a. file renamer). Renaming multiple files has never been easier! It has a small memory footprint so it can be left running all the time without consuming all your memory. It started as a freeware Visual Basic tool, but as its popularity has grown it has been completely rewritten in C++ to be robust and lightweight – and very, very fast! It can easily handle folders/discs containing well over 100,000 entries… and it can batch rename 1,000s of files in seconds.
The software is freeware and gets downloaded very frequently. It has a large base of regular users. Most of the features have originated from other users' suggestions. As such, it is continually being enhanced and improved.
As well as being "recommended" by a number of web sites, Bulk Rename Utility has also appeared on many magazine cover-discs, from Brazil to Sweden.
If you have a suggestion for a new feature, get in touch and it could appear in a future release of the software!